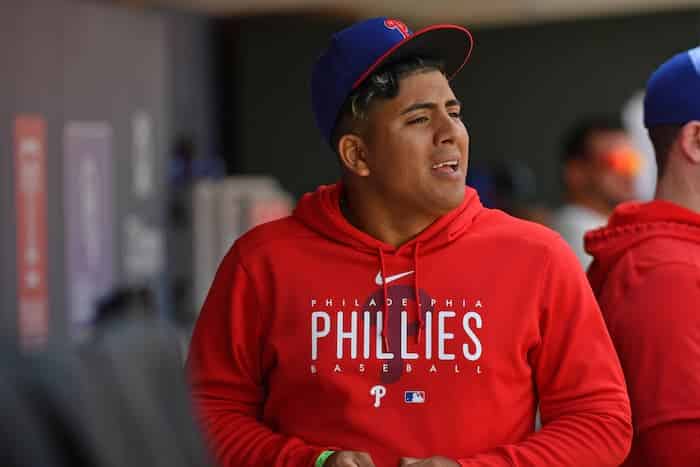 Here's the latest news and notes on the Phillies injuries as updated by the ballclub:
LHP Ranger Suarez (left elbow strain)– Suarez will make another rehab start with Triple-A Lehigh Valley on May 7 at Syracuse (Blue Jays). If all goes well, Suarez will rejoin the rotation according to Phils' skipper Rob Thomson. The lefty has made two rehab outings to date allowing one hit and one walk over four innings.
Expected Return: week of May 8
RHP Andrew Bellatti (right triceps tendinitis)- Bellatti threw live batting practice earlier this week in Clearwater, FL. He will make two scheduled rehab appearances, May 5 and May 7, both in Clearwater before continuing his rehab with Triple-A Lehigh Valley.
Expected Return: mid-May
CF Cristian Pache (right meniscus tear)- Pache underwent a right knee lateral meniscectomy on Monday, May 1 in Philadelphia. He is expected to be out of action for four to six weeks while recovering from the arthroscopic procedure.
Expected Return: Early-to-mid June
1B Darick Hall (right thumb surgery)- Hall took the next steps recovery from right thumb surgery earlier this week when he began playing catch. He is expected to begin swinging at some point next week if he's feeling comfortable.
Expected Return: Mid-June
RHP Andrew Painter (right UCL sprain)– The 20-year-old prospect has continued his throwing program while recovering from a right UCL sprain. Painter has moved to playing catch from 90-feet. He will continue a throwing program before beginning rehab appearance at some point during the late-Spring/early-Summer.
Expected Return: MidSummer
---
Other injuries of note:
RHP Noah Song (back tightness)- there continues to be no update on the Phils' Rule 5 Draft Pick (Boston). There is no timetable for his return. As a Rule 5 Draft pick, Song will need to be on the active roster for at least 90-days in order to remain with the organization.
C Rafael Marchan (right hand surgery)- taking live batting practice. Estimated Return: Mid June1B Rhys Hoskins (left ACL surgery)- no timetable for a return